The 'weird' room. In a former life, before the previous owner added an extension onto the house, it was likely a tiny bedroom. But after two additional bedrooms were added upstairs (bedroom 1 and 2 as we call them) it's unclear what its use was although a playroom of some sort is my guess.
I want to post about this room now because we are not 100% sure what to do with it, so maybe this post will generate some ideas! I also want to show off the birch plywood–yes, plywood–floors. It's our first foray into DIY flooring, and it turned out pretty decent. Here's the room before (part of it):
And here it is after (the 'current' after–something else will be added to this space!):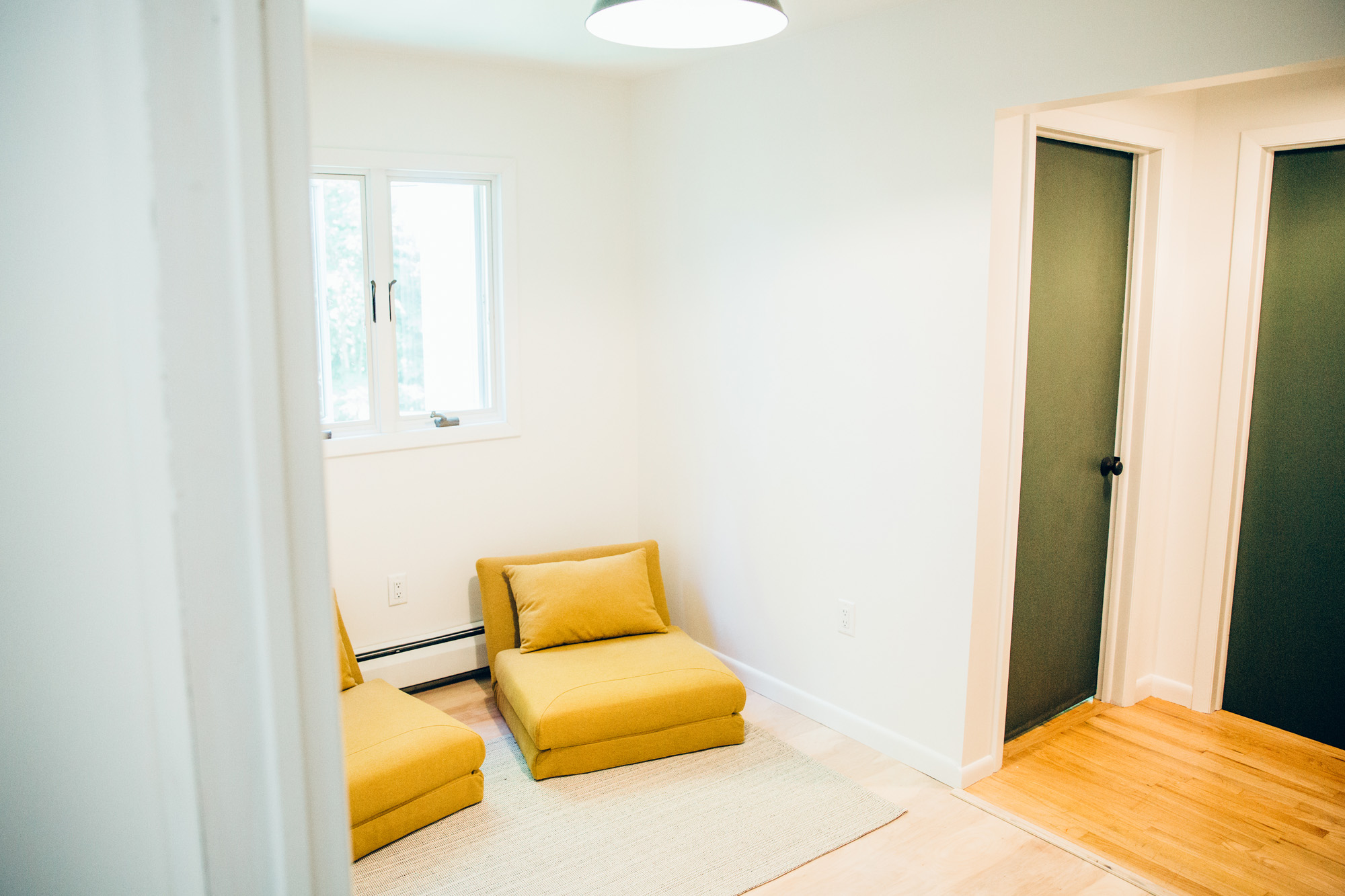 Like bedroom 1, we undertook the same overall process. I removed, sanded, and painted (Rust-Oleum flat white) the hydronic heating cover baseboards. Then patched the badly beaten walls (hence the playroom thought), and painted them using Benjamin Moore Decorator's White. We debated if we even wanted to keep the door in this room, because what is the real purpose? But we did, and it got a few coats of Benjamin Moore's Vintage Vogue, which is the color of all of the upstairs doors. The light is from Home Depot but warning: it does not come with the cool cagey-thing in the photo online. I might say something when time. And these little chair/futons have been serving as our "couch" since about week three. They are from Walmart–yes Walmart–and I got them on sale.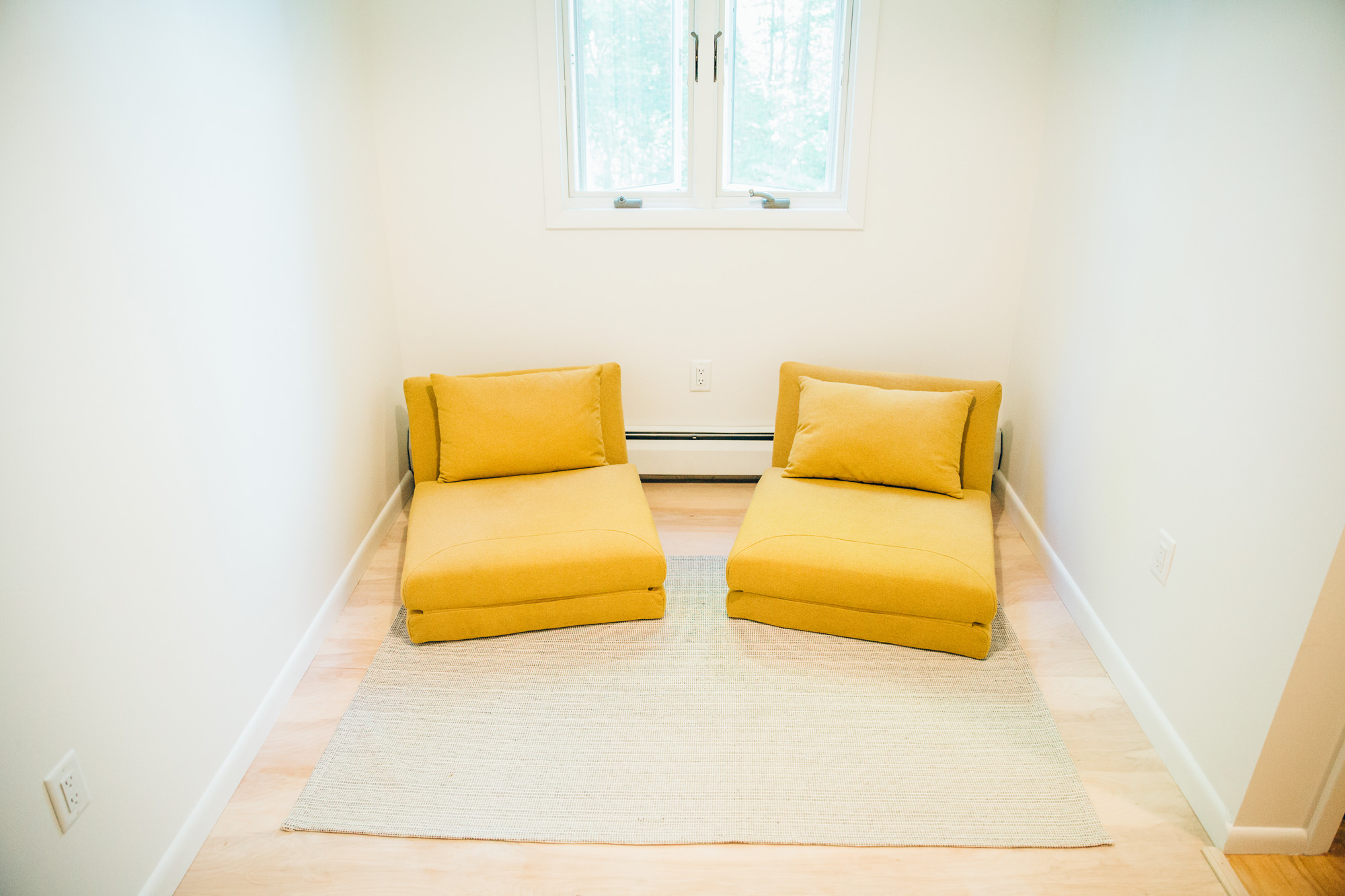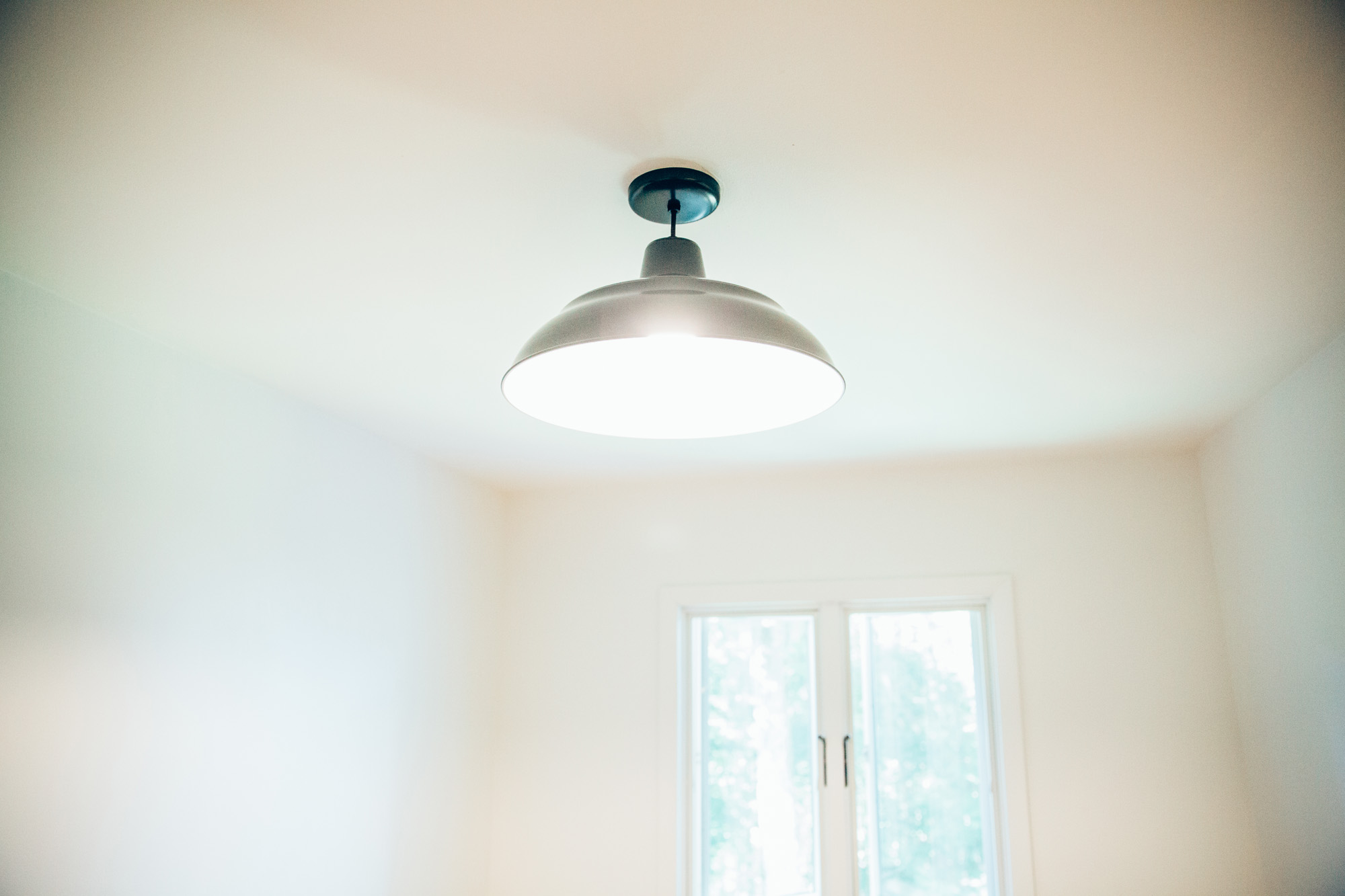 Okay so the floors, that's the point of this post. Most hardware stores (at least up here) sell hardwood plywood. We got our first batch at Home Depot, and choose birch because we like that light wood look. Instead of cutting it to mimic wood floorboards, we decided to keep it large format. You won't find many examples of this online but there are a few on Pinterest. Most, however, are of painted plywood, which looks cool, but ours looks much different. Anyway, it was tricky to keep the large format and get precise cuts to fit the pieces around the door as well as where this floor was going to meet the OG hardwood floor.  I am hoping Jake does a full post on the floors and how we actually installed them because I can't say for sure since I was more of an observer of the process. It involved the table saw.
I did, however, lay all of the underlayment–QuietWalk was our cushion of choice–with some help from Jake. I thought the wood would just fit right in, but it wasn't that easy. But once it was in, I had the fun job of filling all of the tiny nail holes with wood filler and then staining the floors. We decided to go with a whitewash look and used Varathane. Varathane's Whitewash is exactly the same as their Antique White–at least on the birch plywood we used. I did a bunch of test pieces to see how it looked alone, over the wood filler, etc.–and totally the same! To be honest, I did two coats and it barely looks white, but we both liked it so decided to roll with it. Perhaps we will try three coats on other rooms–we shall see. Here's the finished product: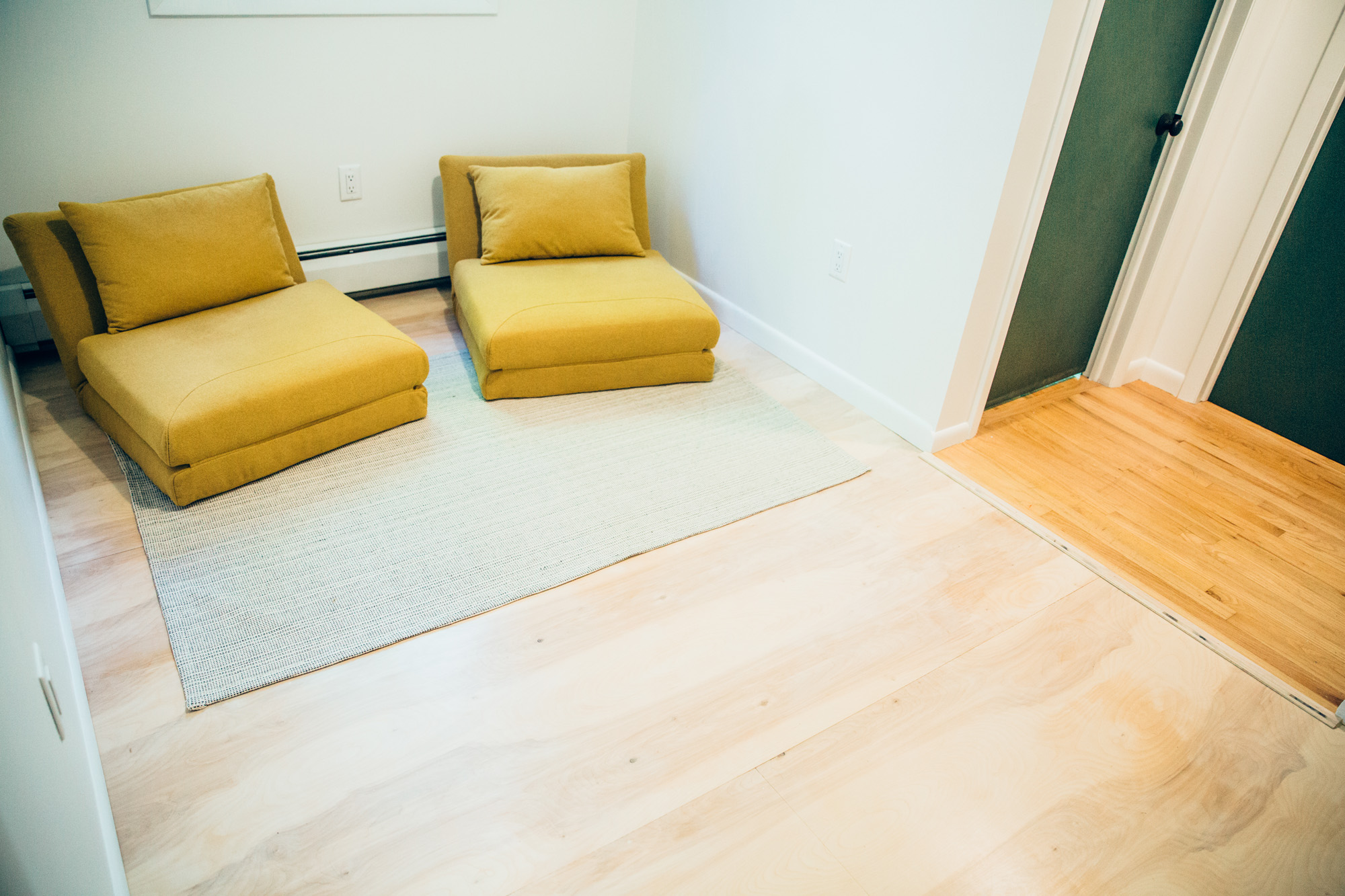 [All photos by Jake unless otherwise noted]